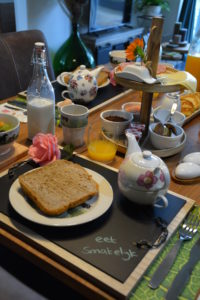 Even weg van alle drukte en even genieten van alles wat de Aurelia te bieden heeft? Het ontbijt word 's ochtends vers voor u geserveerd (op een door u aangewezen plek).
Voor dit uitgebreide ontbijt gebruiken we o.a. streekproducten en proberen wij zoveel mogelijk groente en fruit uit eigen moestuin te halen. De eieren die wij serveren zijn van de kippen uit onze eigen tuin. Zij krijgen de beste producten waaronder graan en kruiden waardoor de kippen in topconditie zijn en dit proeft u. Bij ieder ontbijt word een extra gerecht geserveerd, het is afhankelijk van het seizoen welk gerecht dit is. U kunt hierbij denken aan warme wafels in de winter of een heerlijke frisse fruitsalade in de zomer.
Heeft u speciale wensen of wilt u het net even anders? Geen probleem; wij denken graag met u mee!